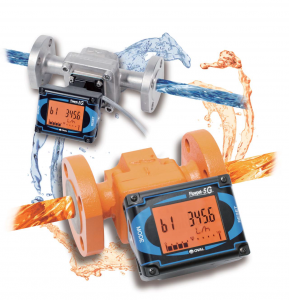 General
FLOWPET-5G is an OVAL flowmeter primarily intended for use in boiler feed water and fuel oil metering applications.
Field proven accuracy and long life along with the best price / performance and ease of use make this industrial meter ideal as a dedicated tool for heat control.
Features
Available in two product families – for water service and fuel oil service.
Newly designed electronic register shows total flow and instantaneous flow on a digital LCD at the touch of mode select switch.
The display angle can be adjusted for better visibility (Adjustable range: 90 degrees upward, 75 degrees downward)
The electronic register equipped models have an internal battery (good for 8 years); eliminates the need for an external power source.
(Operation on external power source is recommended for the pulse output models.)
Improved display capabilities compared to the previous EG register.
Factored pulse width is variable in 1ms steps with the front-panel buttons (adjustable 1 to 999ms)
Simulated outputs available. (Pulse generator furnished meter only) Pulse and analag output can be simulated at any flow rate for loop tests.
Reliable engineering-unit pulses for total flow and fast pulse output are available.
Analog output available (2-wire, 4 to 20mA
For more information / datasheets, please check our product category or contact us.